MWC2022 Barcelona: Lighting Up the Digital Future
If you missed us at MWC22 Barcelona, this series of blog posts has you covered. Under the theme Lighting Up the Future, Huawei presented three major areas at this year's Mobile World Congress.
Lighting up the Digital Future
In this post, I look at Lighting Up the Digital Future, how 5G will enrich digital life, industry digitalization through XtoB, and Home+.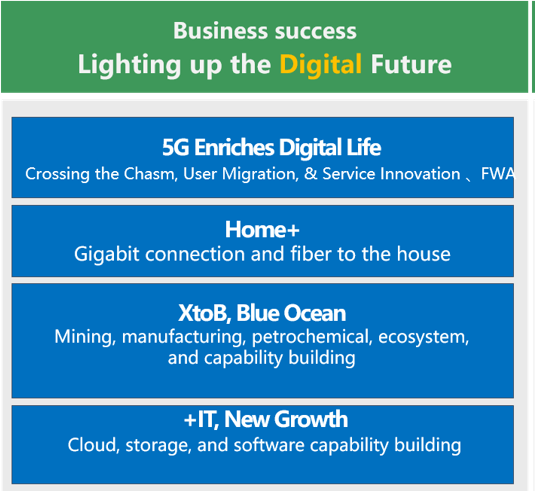 5G Enriches Digital Life
5G pioneers have gradually realized the business value of 5G. Operators in Europe, China, East Asia, and the Middle East have worked towards overcoming three critical chasms to achieve business success: User ratio, Traffic ratio, and Value.
Crossing the 5G 20% user ratio chasm:develop are a rich device ecosystem and precise marketing, as demonstrated by AIS in Thailand and Sunrise in Switzerland.
Crossing the 5G 30% Traffic Ratio chasm: guide customers to turn on the 5G switch on UE, improve the 5G user experience, and design attractive packages.
Crossing the 5G 50% Value/Revenue chasm: support new 5G services, such as Cloud AR, the New Video, and upgrade basic communication services, like Video Calling/Video Ring-back Tone, Messaging, FinTech, and FWA. As per third-party forecasts, 5G revenue will account for 44% of operators' wireless revenue by 2025, and leading operators are expected to reach 50%.
XtoB: Blue Ocean
Industry digitalization will be an important path for carriers' new growth, as all industries around the world are accelerating digital transformation. Enterprises need secure and reliable campus networks. XtoB includes new connections (5G, campus network, cloud network, and premium private line), cloud and edge computing, data centers, industrial Internet of Things (IIoT), and integrated services. 5G is the breakthrough element, driving revenue growth in other areas including cloud, computing, and data centers, helping carriers build a second growth curve.
Huawei has rich experience in the XToB field. Together with carriers and partners, Huawei has signed over 3,000 commercial contracts for 5G industry technology solutions and has implemented eight typical application scenarios on a large-scale, including remote device control, data collection, and product quality detection.
To meet requirements and capture the business opportunities of the XtoB new blue ocean market space, carriers need to build new capabilities. Based on Huawei's accumulated experience from a large number of projects around the world, we have developed a series of templates, tools, and methodologies – organized in 6 phases – to help carriers expand into the XtoB market.
Industry vertical and customer selection
Consulting and guidance
Budget quotation
Network design and deployment
Performance evaluation
Enterprise self-service platforms
To design successful business models of XtoB (5GtoB) services, carriers need to convert complex network configurations into simple and flexible quotation modes, which can be understood by enterprise users and make ordering simple. Huawei has participated in the business model design of the three carriers in China and also global tier-1 carriers. Huawei has summarized the whole experience in the B.A.E. business model.
(B) Basic: covers the basic 5G network offer and can be divided into B1 network-sharing mode, B2 hybrid mode, and B3 independent mode.
(A) Advanced Functions: additional features and services offered on top of the basic network such as service acceleration function, edge computing function, and network design service.
(E) Extended: further solutions offered outside of connectivity, for example, data center services and cloud services (including cloud resale).
"B", "A", and "E" capabilities can be flexibly combined and purchased to form an enterprise-oriented product & offer combination.
Home+
Working from home, online learning, gaming, and the arrival of new services including 8K and AR/VR are all pushing people to recognize home broadband as an essential service. This opens up three strategic opportunities for carriers to grow their broadband services:
One Fiber: allows for upgrade from 100 Mbit/s to 1 Gbit/sec to support next-generation services.
One Network: provides a broadband experience everywhere and in every room.
One Home+: provides intelligent home/office services to become an integrated DCIT service provider.
Huawei's Fiber to the Room (FTTR) solution is a next-generation solution for home and small- and medium-sized enterprises to provide seamless Wi-Fi 6 coverage, including in each room in a home or office. Key benefis of the solution include:
Gigabit coverage: FTTR can support Gigabit services in every room.
Seamless roaming.
Beamforming: beamforming Wi-Fi antennas increase coverage 40% horizontally, 30% vertically, and can follow the user as they move around the house.
Concurrent users: For our business networks, we can support more than 300 simultaneously connected devices.
Future proof: Fiber cabling can support 1 Gbit/s services today and 10 Gbit/s services in the future.
Huawei's Hybrid Construction Mode solutions can help customers achieve optimal TCO and TTM in all 4 phases of fiber network deployments: planning, construction, installation, and operations.
Planning: Huawei's CO+AirPON hybrid construction model can help operators design a single network to support all services. Unified planning helps operators reduce the TCO for networks and accelerate TTM.
Construction: The CO+AirPON model moves OLTs out of the Central Office, where space is tight, to existing field sites, like mobile sites and street cabinets, that are closer to the customer. This distributed network configuration reduces backbone requirements and lowers the optical power requirements for the network.
Installation: The Huawei Digital QuickODN with pre-installed connectors simplifies network construction and improves ODN construction efficiency by 50%.
Operations: The Digital QuickODN solution makes the passive ODN network manageable. With Huawei's unique and patented Fiber Iris technology, each port on the passive network can be identified and tested from the central office. Problems can be identified with a single click, and troubleshooting is 50% faster.
+IT: New Growth
Carriers' IT infrastructure must evolve to support the requirements of the 5G and Cloud era. Agility, reliability, and quick TTM during the provisioning of new services, such as AR/VR, autonomous driving and real-time control & monitoring, and industrial applications, is required. Industrial control and immersive consumer services demand low latency (1 ms-5 ms) and this will drive IT infra deployment towards the edge (Edge Cloud) to ensure the reliability and optimal experience of services with different latency. Finally, IT will play a crucial role in the development of B2B services for carriers with a potential of an additional revenue in the order of 15% to 25%.
To develop "fit-for-purpose" IT infrastructure, carriers should deploy IT infrastructure with the following characteristics: ICT synergy for agile development, coud-edge synergy for consistent experience, and cloud-network synergy for faster growth.
Huawei believes that the target IT foundation infrastructure must offer:
Fully collaborative and distributed cloud.
All-scenario data storage resource pool.
Diversified computing capabilities for various industrial scenarios (universal computing & heterogeneous computing capabilities).
Read more about Huawei's carrier 5G solutions.
---
Disclaimer: Any views and/or opinions expressed in this post by individual authors or contributors are their personal views and/or opinions and do not necessarily reflect the views and/or opinions of Huawei Technologies.